Die Serie geht weiter. Für unsere Januarausgabe im Heinz Gaul haben wir wieder feinste Sticker gestalten lassen. Wir freuen uns, dass die Kollegen Zipper die Rakete aus der Hansestadt Hamburg trotz notorischem Mangel an Zeit, die Muße gefunden haben, um uns einen äusserst formidablen Raketenentwurf zu schicken. Episode Nr. 4 ist ready to present the stick: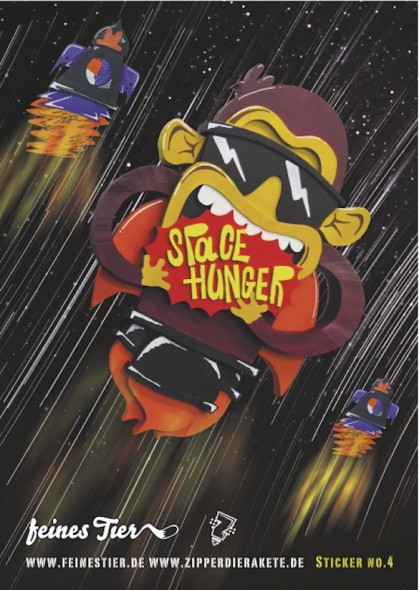 Die beiden Zipper Boys schaffen aus Styropor einzigartige Raketen, die sie in mühevoller und zeitintensiver Frickel- und Malarbeit zusammenbauen. Wer in der Schanze oder auf St. Pauli farbliche Kontraste auf tristen Betonfassaden sucht, wird sicherlich die ein oder andere Rakete zu Gesicht bekommen. Auch in anderen deutschen Städten wurden schon diverse Zipperwerke gesichtet.
Aufgrund ihrer Einzigartigkeit und Liebe zum Detail sind die Dinger äusserst beliebt und so kommt es nicht selten vor, dass die Raketen schon nach kurzer Zeit nicht mehr dort zu finden sind, wo sie befestigt wurden, da der ein oder andere kunstinteressierte Sammler sie sich besser in seinen privaten Gemächern vorstellen kann. Nichts desto trotz sind Zipper die Rakete hart am "performen", sodass letztes Jahr auch die erste Ausstellung stattfand.
Video zur Ausstellung Popping and Rocking in der Xpon-art Galerie Hamburg:
Und als ob das noch nicht genug Style wäre, checkt mal die Vollcorner ab:
Oder auch die Homepage, von der ihr die verschiedenen Webpräsenzen direkt ansteuern solltet.
Ein großes Dankeschön an dieser Stelle an die Jungs. Doppelgernung!!